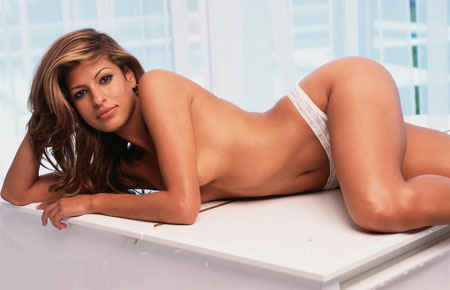 Eva Mendes has checked herself into a rehab.

Via PageSix:

"Eva has been working hard for the past year and made a positive decision to take some much-needed time off to proactively attend to some personal issues that, while not critical, she felt deserved some outside professional support.

Out of respect for Eva's privacy, we do not wish to discuss further details," her rep told PageSix.com.

The 33-year-old had previously spoken out on her distaste for the Hollywood lifestyle. "The celebrity world can be so ugly. Everyone seems to have slept with everyone else and it's some sort of strange weird cycle. I don't want to get into that." In addition to acting, Eva had recently become the face of PETA's new ad campaign and is currently featured in the 2008 Campari calendar promoting their line of alcohol.

Eva is allegedly receiving treatment at the posh Cirque Lodge, located in Sundance, which prides itself as being one of the most exclusive alcohol and drug rehab centers in the country.

It is the same facility where Mean Girl Lindsay Lohan spent her third rehab stint and hooked up with snowboarder Riley Giles. Billionaire twin Mary-Kate Olsen also spent time there in 2004.

The resort-like rehab is set in the majestic mountains in Sundance and offers a variety of addiction and behavioral treatment programs.

The luxurious bedrooms include down duvets and pillows, reading and relaxation areas, fireplaces or wood-burning stoves, and large bathrooms with slate tile and jetted tubs.

In addition to treatment programs, Cirque Lodge offers a variety of activities for its guests including working with horses, high-rope low-rope, snow shoeing, mountain biking, helicopter, kickboxing, yoga, and ceramics. While Lohan was receiving treatment there, she was seen with horses and walking a dog while hiking.

A 30-day stay at the luxury rehab isn't cheap. To stay in the ultra-exclusive "Lodge" building with only 16 beds, the rate starts at $44,850.

Staying at the "Studio" facility, located on twelve acres and having 44 beds, starts at $29,850.
Source!!!