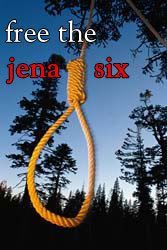 We must address a more serious (and historic) issue that is happening right now.

Today is a historic day in what many are calling the makings of a 21st Century Civil Rights movement. This time it's about disparities in the legal system in this country.

There is a massive march happening in Jena, LA as we speak (CNN is reporting thousands of people). If you couldn't make it to Jena wearing black on Sept. 20th (today) to stand against racism and spread the word on what's going on.